This app playback only 'one' MP3 song. Not playback next music file automatically.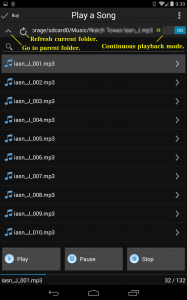 Select a MP3 music file from the directory of your device, press the play button. After play a song, playback will stop.
If the 'continuous playback mode' on, you can playback continuously, but after you press the stop button or you change directory, continuous playback mode will be disabled.
The current directory at app closed will be listed when the next startup.
CAUTION: This app is available on ARM based CPU only.
The FatCow icons are used. (http://www.fatcow.com/free-icons)